Program Overview
<![endif]-->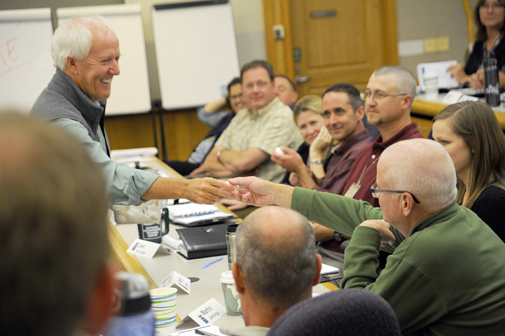 Creating connections across organizational and cultural barriers.
Fellows leave the NCLI experience with an increased appreciation for the opportunities that come with diversity and inclusion.
Designed to be a world-class comprehensive learning experience, the NCLI serves diverse natural resource related organizations throughout North America, including Federal Agencies, State Fish and Wildlife Agencies, Non-Governmental Organizations, and Tribal and Natural Resource-related Industry Organizations. Fellows must be nominated by their organizations Director, CEO, or Tribal Leadership. Organizations can nominate up to 3 individuals for consideration each year.
Format
The National Conservation Leadership Institute was designed with four major phases:
Prework. Fellows get an initial introduction to adaptive leadership concepts through reading of Institute selected material and identify an adaptive leadership challenge relevant to their work and agency/organization.
10-day first residency in the fall at the U.S. Fish and Wildlife Service's prestigious National Conservation Training Center in Shepherdstown, West Virginia. The curriculum encompasses a focus on personal leadership and expands to leadership relevant to teams, organizations, and the conservation community. Learning is optimized by anchoring the curriculum to the principles of Adaptive Leadership™. World class faculty provide the course "connective tissue" linking exercises, case examples, and learning into a cohesive picture for conservation leadership. A highly interactive mix of learning deliveries provides a strong knowledge and experiential base. Content is enriched through lively discussion, debate of conservation specific case examples, and challenging critical thinking skills.
Individual, organization-related adaptive leadership challenges. Between residencies each Fellow will apply what they have learned to their adaptive leadership challenge. Each participant will be part of a small group that functions as peer consultants by providing input to other team members on their projects.
3-day second residency the following spring at the YMCA of the Rockies at Estes Park, CO. Fellows reconvene to share their Institute experience. Final learning and discoveries are shared and lifelong key relationships are cemented.
Additional Information: